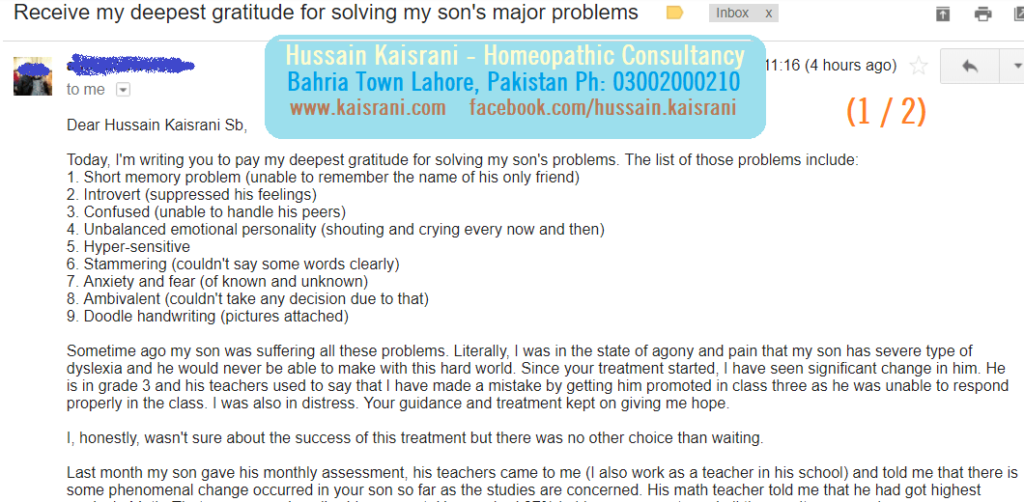 Dear Hussain Kaisrani Sb,
Today, I'm writing you to pay my deepest gratitude for solving my son's problems. The list of those problems include:
Short memory problem (unable to remember the name of his only friend)
Introvert (suppressed his feelings)
Confused (unable to handle his peers)
Unbalanced emotional personality (shouting and crying every now and then)
Hyper-sensitive
Stammering (couldn't say some words clearly)
Anxiety and fear (of known and unknown)
Ambivalent (couldn't take any decision due to that)
Doodle handwriting (pictures attached)
Sometime ago my son was suffering all these problems. Literally, I was in the state of agony and pain that my son has severe type of dyslexia and he would never be able to make with this hard world. Since your treatment started, I have seen significant change in him. He is in grade 3 and his teachers used to say that I have made a mistake by getting him promoted in class three as he was unable to respond properly in the class. I was also in distress. Your guidance and treatment kept on giving me hope.
I, honestly, wasn't sure about the success of this treatment but there was no other choice than waiting.
Last month my son gave his monthly assessment, his teachers came to me (I also work as a teacher in his school) and told me that there is some phenomenal change occurred in your son so far as the studies are concerned. His math teacher told me that he had got highest marks in Math. That was an un-describ-able moment. He acquired 87% in his assessments and all the result was genuine.
I still can not believe this but it is a fact that, by the grace of Allah and with homeopathic treatment my son got cured and is ready to give his mid-terms and I am sure he gonna get above 90 this time. He has memorized 25 pages of his science notebook and previously he was unable to remember the full first Kalima (no exaggeration at all). His writing has improved a lot, Alhumdulillah.
I'm writing this gratefully, thankfully and above all joyfully that my son is almost ready, Insha Allah, to explore the world with its same hardness. Thank you!
Grateful Regards!
(Hussain Kaisrani – Psychotherapist & Homeopathic Consultant, Lahore Pakistan. Phone 03002000210)